CPAP Staff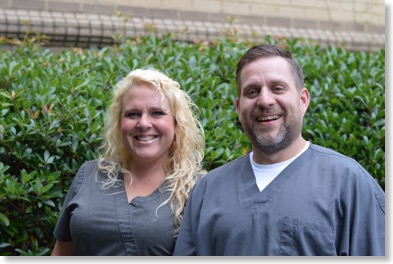 Jennifer Foster and Rick Preston, RPST, CCSH (Certification of Clinical Sleep Health)
Here at the Sleep Disorders Center of Alabama we have CPAP Specialists on staff.


Our specialists are here to take care of the patients after they have had their sleep study wherein the doctor has determined that CPAP (Continuous Positive Airway Pressure) should be prescribed for their particular needs.
This includes instruction on how to set up and use the CPAP machine, fitting the mask so that they will be comfortable in using it, and proper instruction in the cleaning and care of the CPAP equipment.

They are available to assist patients with any problems or needs that may occur during their use of the CPAP equipment to ensure each individual receives the best quality of care.

Should you notice a change in your sleep after months of successful CPAP therapy, you should schedule an appointment with your Sleep Physician or Nurse Practitioner to re-evaluate your progress and determine any possible cause.

*Please be aware... CPAP equipment wears out. You should consider replacing your mask, headgear and hoses about every 6 months to 1 year.