William G. Adams, Jr., M.D.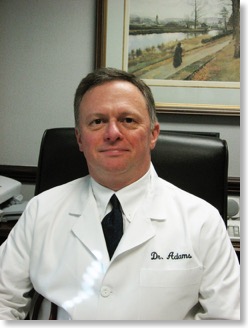 Dr. Adams is a Board Certified Sleep Specialist and has been with the Sleep Disorders Center of Alabama since 2003. He has also been a sub-investigator in many Clinical Research Trials since joining the practice.


Prior to joining the center, Dr. Adams had been a Primary Care Physician in Internal Medicine since 1988 in both Tennessee and Alabama.

Dr. Adams was born in Anniston, Alabama and obtained his Bachelors of Science from the University of Alabama at Birmingham. He obtained his Medical Degree at the University of Alabama School of Medicine and did his Internal Medicine Residency at the James H. Quillen College of Medicine at East Tennessee State University. This included one year as Chief Medical Resident at the Hospital. He served the Hospital as Assistant Professor from 1988 until 1993. Dr. Adams is Board Certified in Internal Medicine and Sleep Medicine.